We're here to address two things: a myth and a unique problem. Let's begin with the myth that black people don't need to wear sunscreen. This is a common misconception. Although the melanin in black skin does offer some protection from the sun, it is not immune from skin cancer. Black skin has a natural SPF of 13, but many dermatologist suggest wearing at least an SPF 15 broad spectrum sunscreen daily. Sunscreen black skin are three words that need to be address more often.
GOING ON VACATION? HERE ARE 5 THINGS EVERY NATURAL SHOULD NEVER FORGET TO PACK
Many black women who wear or have attempted to wear sunscreen often complain of one major problem: sunscreen makes them look pale or comes off chalky on our beautiful brown skin. All too often the claims of transparent sunscreen coverage fail the dark skin test, leaving us looking ashy and gray.
In order for a sunscreen to be black girl approved, it must be completely sheer on the darkest of skin. We've researched and experimented and came up with a list of the best sunscreen black skin approved products and yes, there are plenty to choose from!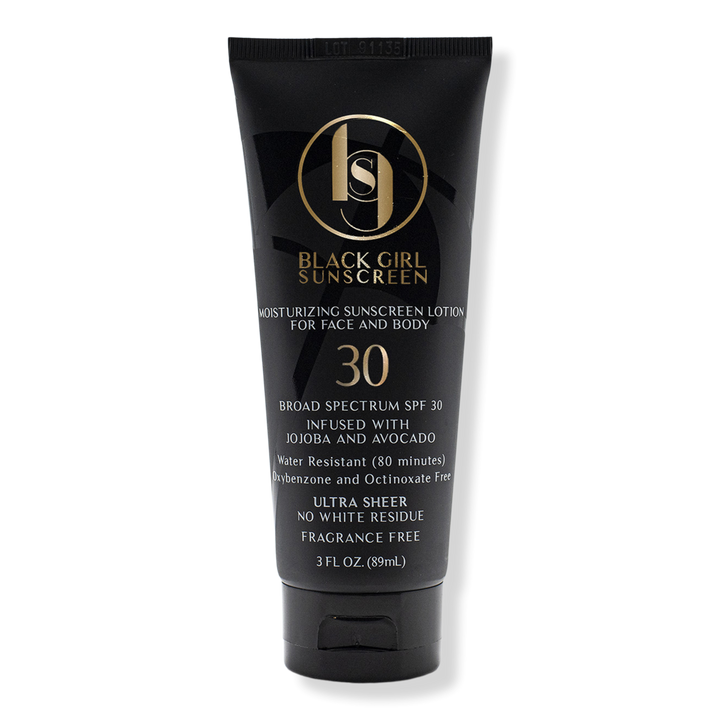 Black Girl Sunscreen Moisturizing Sunscreen Lotion SPF 30
Made for melanated skin, Black Girl Sunscreen Moisturizing Sunscreen Lotion SPF 30 protects against harmful UVA & UVB rays using a signature, sheer formula. Broad Spectrum SPF 30. Protects against harmful UVA & UVB rays with a sheer formula and no white-cast. Water Resistant for up to 80 minutes and FREE from Parabens, Fragrance, Oxybenzone, & Octinoxate and Reef-Friendly.
Hydra Vizor Invisible Moisturizer Broad Spectrum SPF 30 Sunscreen
We love Rihanna and we love her concern for our skin and beauty. This invisible SPF 30 moisturizer feels like nothing but delivers on everything—it locks in fresh hydration, fades the look of dark spots and defends against pollution. Instantly smooths while treating pores and dark spots over time. Invisible on all skin tones–no chalkiness or flashback.
Smooths the look of pores while softening fine lines and wrinkles. Reduces the look of dark spots, evens and brightens tone. Absorbs instantly and layers weightlessly under makeup without pilling.
Supergoop! Unseen Sunscreen SPF 40 PA+++

This was my fave for years. I still love it and it was by itself for a minute. This cult favorite is the original invisible sunscreen! With an oil-free formula & a natural finish, this innovative, antioxidant-rich essential glides onto skin to provide broad spectrum UVA/UVB & infrared protection while helping to filter blue light. Bonus: It doubles as a makeup-gripping primer!
La Roche-Posay Anthelios Clear Skin Dry Touch Sunscreen SPF 60

Got acne? We've got you covered. La Roche-Posay Anthelios Clear Skin Dry Touch Face Sunscreen SPF 60 for acne-prone and oily skin provides broad-spectrum UV protection and antioxidant benefits. Oil-free face sunscreen provides broad-spectrum SPF 60 protection and absorbs excess oil and reduces shine, even in heat and humidity.
Will not cause breakouts in acne-prone or oily skin and this dry-touch face sunscreen formula leaves skin with a matte finish. Powerful antioxidant complex helps protect skin from free radicals caused by UV rays and soothes the skin with mineral-rich La-Roche Posay Thermal Spring Water. Water-resistant for up to 80 minutes.
Glossier Invisible Shield
Lightweight and undetectable, this water-gel SPF 35 applies like a serum, with no greasy residue or white cast. Specially designed so even the sunscreen haters can't help but fall in love with it, Invisible Shield helps prevent sun damage and sun burn, while neutralizing harmful free radicals. Plus, the active microcapsules instantly absorb onto skin and play well with makeup, so you really have no reason to skip SPF.
COOLA Classic Body Organic Sunscreen Spray SPF 50-70
A lightweight, fast-absorbing non-aerosol spray with water-resistant, broad-spectrum UVA/UVB sun protection. This Farm to Face® formula features their antioxidant-rich Plant Protection complex that helps fight free radicals and nourish skin. Spray on this ultra-sheer formula for water-resistant broad spectrum UVA/UVB protection any time, anywhere!
Shiseido Clear Sunscreen Stick SPF 50+
A clear sunscreen stick with SPF 50+ that works over and under makeup for sun protection on the go. An innovative WetForce x HeatForce technology creates an invisible, lightweight protective veil that becomes more effective in water and heat*. Delivers superior protection that goes on clear and absorbs quickly without any residue for comfortable wear.
This ocean-friendly formula offers invisible UV protection for face and body. Glide the clear stick under or over makeup for easy, portable coverage on active, outdoor days.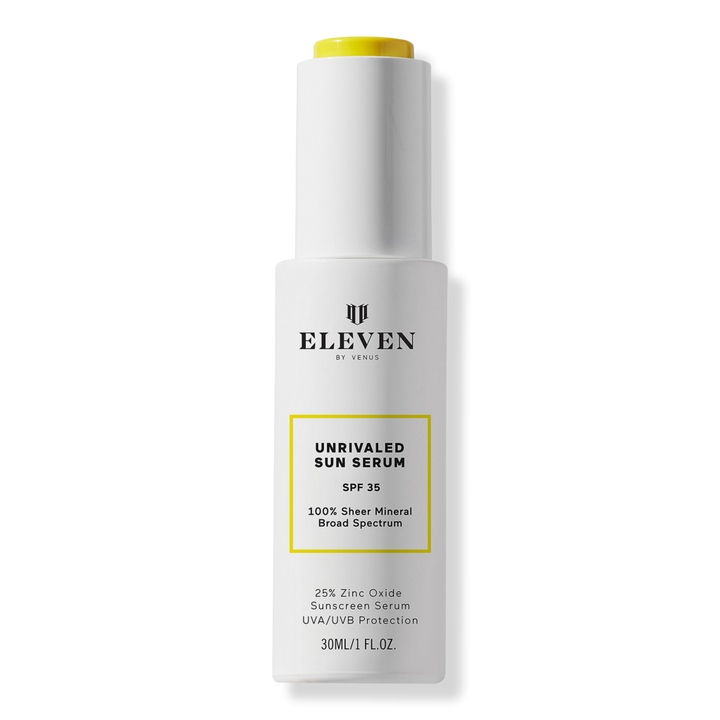 EleVen by Venus Williams Unrivaled Sun Serum SPF 35
EleVen by Venus Williams Unrivaled Sun Serum SPF 35 is a lightweight serum formulated 25% zinc oxide. This clean, vegan, and reef-safe Sun Serum is perfect for daily use on all skin types and tones. Broad-spectrum mineral-based sun protection with a demi-matte glow finish with a reef-safe formula and packaging made from post consumer resin (PCR) material.
BLACK OWNED LEAVE IN CONDITIONERS THAT YOU NEED TO BE USING
This is an updated list with the most popular and current products that are proven to give your melanated skin all the sunscreen love! Sunscreen black skin care is necessary and there are far too many great brands that will keep you protected and melanin-loved!
What's your favorite sunscreen that won't leave you ashy or looking like a ghost?
Sabrina